Profile

Follow Your Inner Moonlight
don't hide the madness
Free Account
Created on 2017-05-12 05:18:28 (#3191337), last updated 2017-05-12 (18 weeks ago)
17,719 comments received, 0 comments posted
3,770 Journal Entries, 170 Tags, 0 Memories, 1 Icon

About

Mini Bio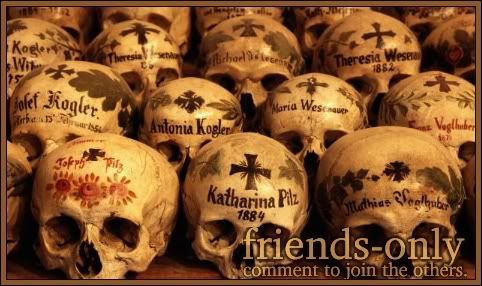 Comment here to be added.
(graphic by
gentilhomme)

Just sayin'!

TheSageBean @ last.fm
My DVD Collection
Icon Policy --
Feel free to take any of my icons that are not marked otherwise. Please credit accordingly. A comment on the journal would be appreciated if anything is taken. If you really think you might die if you don't have one of the icons marked "DO NOT TAKE," then drop me an email and tell me why. There are reasons why those icons are marked as such, but the occasional exception could possibly be made. Possibly. Never hurts to try. Worst I can do is say no. My icon resources can be found
here
.
Journal Explanation --thewlisian1.
n.
A fan of David Thewlis.
2.
adj.
Of, relating to, or characteristic of David Thewlis.
afer
n.
Taken from the binomial name "
Orycteropus afer
" which is the species name of the aardvark.
WHY?
niav
thinks Thewlis looks like an aardvark. I have embraced it.
This LiveJournal started as a joke. I wanted to post comments on LJs that were set to disallow anonymous posting. It's still a bit of a joke. I don't take this very seriously. It's just something I do for fun. Sometimes I can use the characters to work out my own issues. And I do put a lot of my own psychology behind them to make it more enjoyable for the people reading. But, overall, this is fun and if you don't like it, don't read it. :) Everything is clearly rated, and anything NC-17 is under a LJ-cut.
-Remus/Sirius moodtheme created by
anniesj
, featuring artwork by
celestialsoda
,
linnpuzzle
,
ponderosa121
and The Theban Band.
-House/Stacy moodtheme created by
ablog_ortwo
.
-Robert Sean Leonard moodtheme created by
thewlisian_afer
.
-
Sherlock moodtheme
created by
un_endlich
.

Connect

People
[View Entries]
astronomia
,
avawatson
,
moony

[livejournal.com]
aheartfulofyou
,
amazonqueenkate
,
antigone921
,
aposteriori
,
beforeyoubegin
,
buffbanded
,
caretta
,
chemina42
,
cindy-lou-who8
,
copperbadge
,
copperpixie
,
countouttheday
,
cross-the-sky
,
deana-in-texas
,
departedlover
,
dltoro
,
dr-funbags
,
drastic-dreamer
,
eryslash
,
face-blind
,
findingsherlock
,
froda-baggins
,
froda-sims
,
geek-phd
,
girlcanwrite
,
hannahrorlove
,
he-dreams-awake
,
hunkydorynico
,
inglorious-dmk
,
jacintillating
,
jraven
,
jupitereyed
,
kiffany
,
knowledgequeen
,
kuiosikle
,
lumediluna
,
lycaliesasleep
,
miraielle
,
momebie
,
moose-mcmoose
,
moviegalreviews
,
musikologie
,
mydwynter
,
niav
,
nicalamity
,
oberons-shadow
,
octoberstorm
,
only1leia
,
onlyoot
,
phinnia
,
poetisch
,
queenof1000days
,
rhapsody-iv
,
scifispice80
,
sfeley
,
soophelia
,
soulpaintedstar
,
spoopy
,
srsly-yes
,
starrysummer
,
tallin
,
tartanshell
,
tentaino-konton
,
theladyfeylene
,
thewlisian-afer
,
tourmaline1973
,
unearthingbone
,
wings-unfurling
,
winter-ruins
,
winterknight

Communities
[View entries]

Feeds
[View Entries]

Subscriptions (0)

Linking
To link to this user, copy this code:
On Dreamwidth:
Elsewhere: